Q: How Do You Stain A Fence?
A: One of the easiest ways to give your home a new look is to stain the fence. Maintaining high-quality landscaping, including keeping your fence looking new, can increase the value of your home. For helpful wood staining advice, follow these steps to stain your fence and give your whole landscape a fresh look.

Explore Fence Stain Colors Buy Fence Stain Online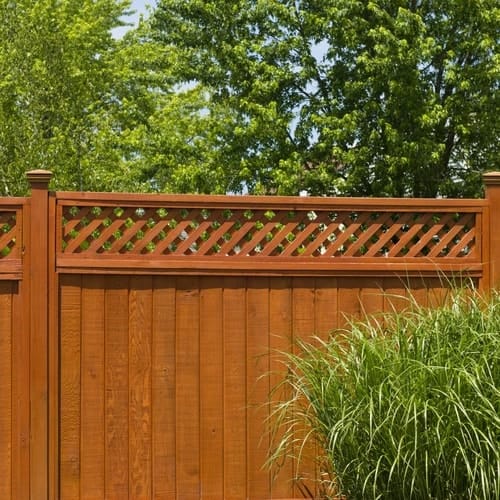 Fresh Look That Protects
Step 1: Choose A Stain
Purchase a top-shelf stain in one of today's contemporary colors to rejuvenate the look of your home's entire landscape. When you apply a fresh coat of wood stain to your fence, you do more than improve its curb appeal.

Try a color like Timberline, Espresso or Beige Gray. A new coat of wood stain color will bring out the wood grain of your fencing and make it look brand new without spending the money on replacing an entire fence.

Using premium-quality wood stains provides the wood with sun protection against ultraviolet rays and fights against wood rot. Your fence will look better with a fresh coat of quality stain color and also ensure your fence will last for a longer time.

View More Fence Stain Colors Buy Fence Stain Online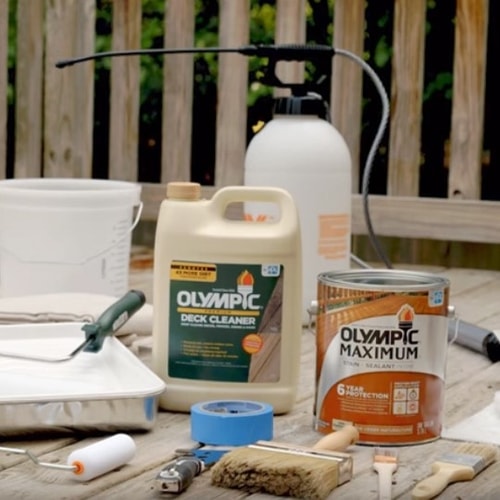 Prep is Key
Step 2: Assemble Needed Materials
Preparation is the key to success in any home improvement project. Assemble these supplies before you begin your project and it will make the project a breeze:
Power washer

Firm-bristled brush

Stain stripper

Bleach or deck wash and gloves

Sandpaper with various grits

High-quality wood stain in your color choice

Drop cloth to protect landscaping around fence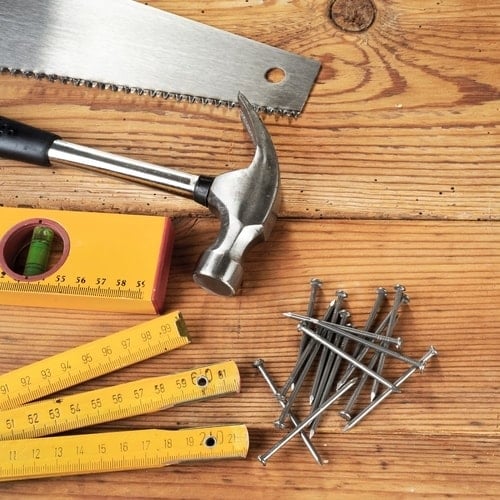 Look for No Rain in the Forecast
Step 3: Check the Weather Forecast
The best time for you to stain your fence is when there's no rain in the forecast. Your fence needs to have time to dry completely before the next rainstorm in order to have even-looking results.

Take a careful walk around your property's perimeter and determine whether you have any boards in the fence that need to be replaced. You want to repair and replace any rotting planks and then clean up the landscaping around your home's fence.

See All Fence Stain Colors Buy Fence Stain Online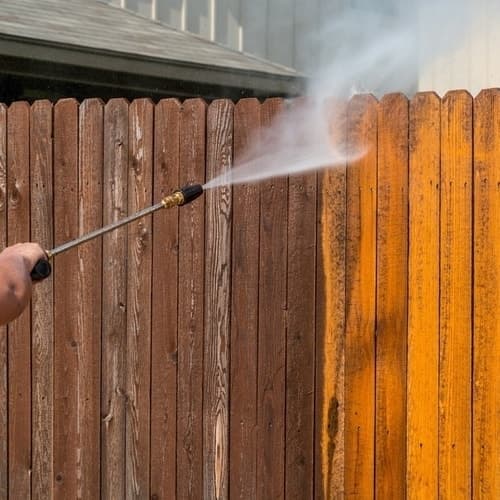 For Better Stain Adhesion
Step 4: Clean and Strip Fence
Be sure to thoroughly clean the fence boards of old stain and dirt before you begin the staining process.
Scrub thoroughly each of the fence boards to remove any algae or wood rot that is present. You can power wash to remove cleaner and complete the cleaning process.
​It may be necessary for you to sand* any planks that need extra attention. Depending on how faded your previous fence stain may be, you may have to strip the old layer of stain off your fence.
For newer wood, less cleaning will be required, apart from washing and removal of any previous stain.
Wait at least a 2 to 3 hours for your fence's wood to dry thoroughly after you've power washed it. Now, your canvas is ready for you to begin.

Get Olympic Stain Stripper Buy Fence Stain Online
* WARNING! If you scrape, sand, or remove old paint, you may release lead dust or fumes. LEAD IS TOXIC. EXPOSURE TO LEAD DUST OR FUMES CAN CAUSE SERIOUS ILLNESS, SUCH AS BRAIN DAMAGE, ESPECIALLY IN CHILDREN. PREGNANT WOMEN SHOULD ALSO AVOID EXPOSURE. Wear a properly fitted NIOSH-approved respirator and prevent skin contact to control lead exposure. Clean up carefully with a HEPA vacuum and a wet mop. Before you start, find out how to protect yourself and your family by contacting USEPA National Lead Information Hotline at 1-800-424-LEAD or log on to www.epa.gov/lead. Follow these instructions to control exposure to other hazardous substances that may be released during surface preparation.
---
Always test a small, hidden area, using the same number of coats you will be using on the fence and let it dry so that you can be sure to get the wood stain color you want.
---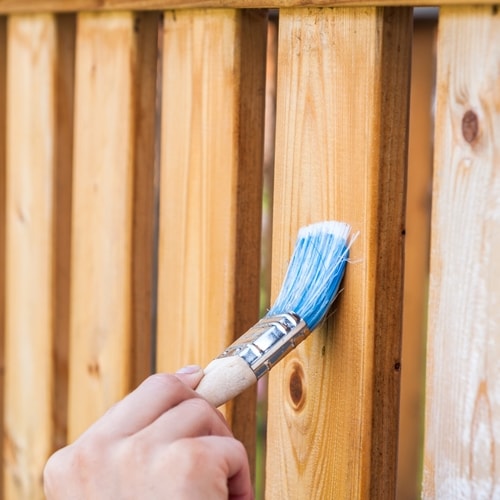 Complete and Even Coverage
Step 5: Stain the Fence
You want to mix wood stains according to the specific instructions on the products. Complete and even coverage is crucial. Apply the stain with a roller or brush. If there is too much wood stain in one area, smooth it out evenly.

To maximize your fence's lifespan, it's crucial that you use a sealant to protect your wood. If your wood stain does not have sealant in it, finish the job with a stand-alone sealant.

View All Exterior Stain Products Buy Fence Stain Online
Please refer to the Product Label, Technical Data Sheet (TDS) or Safety Data Sheet (SDS) for safety and detailed application instructions.